Business Insurance
Comprehensive Small Business Insurance For Today's Professionals
No matter your industry, your passion is putting forth your best effort each workday to exceed your customer's expectations and expand your business. We can relate! At the Mountain Plains Agency, our passion is going above and beyond for business owners like you to keep your business, livelihood protected with top-flight insurance coverage. That way, when setbacks or misfortunes occur — and they will — you won't be alone in rebounding from the challenge toward further success. 
We've been in business for almost 20 years now, and over our nearly two decades of service, we've had the opportunity to help business owners in a variety of industries stay protected from challenges and liabilities unique to their lines of work. We've been there after crimes and natural disasters to provide the necessary funds to recuperate and rebuild. We've been there during accidents and legal issues to offer the vital support necessary to avoid unnecessary risks and rebound quickly from mishaps. All in all, our passion has been to provide our clients the custom insurance coverage and detailed-oriented service they need for their business to grow and thrive, and we can do the same for you. 
What are you passionate about? We can help you identify potential liabilities and keep your business protected as you pursue your vision. Call the Mountain Plains Agency today, and let's have a conversation about supporting your business!
Office Locations 
We proudly serve business owners throughout Northern Colorado Wyoming, and the greater Midwest and American Southwest. We're fully licensed to reliably serve your needs in Arizona, Colorado, Idaho, Iowa, Kansas, Missouri, Nebraska, New Mexico, North Dakota, South Dakota, Texas, Utah, and Wyoming. 
Why You Need Business Insurance
Are you confident that your business has enough insurance to keep it covered from all the risks inherent to your line of work? Chances are that you could be a little overconfident. Studies by Insurance Journal have found that three quarters of American businesses are underinsured, while 40% of small businesses have no local insurance coverage at all! It's no wonder that so many local businesses never reopen after a disaster or shut down after they're faced with a lawsuit — many small business owners just don't think that insurance protection is that important until it's too late. 
We're not trying to sell our services here when we tell you that business insurance, no matter which insurance companies you get your coverage from, is critical to the health and long-term viability of your enterprise. Consider the following findings from a survey of small business owners by Insureon:
35%

of small businesses a year experience an event that could lead to an insurance claim. 
That's a one-in-three chance every single year that your business could stand to suffer losses if you don't have adequate business insurance protection. That's at least one uncovered misfortune or setback every three years! Can your business afford that? It depends on the type of incident. 
Here's more data from that Insureon survey. The small business owners that did report incidents within the past year that could have been covered by business insurance identified a number of common issues. These were the most common incidents: 
22% —  Contract Disputes & Client Complaints
Client dissatisfaction and allegations of negligence or mistakes can be very damaging to your business! Not only do you have the cost of lawyers to reckon with, but also the cost of lost income should your business get bad publicity and take a hit to its reputation. Professional liability insurance can cover claims related to unhappy clients and alleged mistakes or negligence, and it's invaluable — the average incident of reputational harm (at least out of those that have been claimed) can cost a business as much as $50,000. 
---
11% — Worker Injuries
Businesses are required to have a workers' compensation insurance policy in most states, and for good reason — the average worker injury could cost businesses thousands otherwise! Investing in commercial auto insurance is also a good idea for small businesses, as the average work vehicle accident can cost a business $45,000 without insurance coverage. 
---
9% — Theft & Burglary
A commercial property insurance policy isn't as expensive as the $8,000 the average business loses in a burglary incident. This special type of business insurance can help you pay to replace stolen property and goods. 
---
7% — Fire & Weather Damage
Business property insurance should be considered a must-have for any small business, given that weather and fire damage can cause upwards of $80,000 of damage to a property. Many small businesses never reopen after extreme weather events, but with property insurance, you can get the repairs and replacement of essential infrastructure covered. 
---
2% — Customer Injuries
Customer injuries aren't common, but boy will you be glad to have bought general liability insurance if and when one happens in your business! Customer injuries, property damage, and slip-and-fall incidents can cost uninsured businesses anywhere from $20,000 to $30,000, and that's before factoring in the reputational harm your business could suffer if the incident is severe.
---
2% — Injuries & Damage Caused By Products
Many businesses that invest in general liability insurance also opt to add a product liability insurance policy, too. This type of insurance can help cover legal expenses you may incur related to damage from the products you sell. Given that the average product liability claim is $35,000, it's considered by many to be a smart investment!
---
Get An Affordable Custom Business Insurance Plan
Are you worried about not being able to afford business insurance for your small business? Give us a call before you start to worry. At the Mountain Plains Agency, we have access to tens of thousands of insurance policies from the nation's providers that we can mix and match to create a custom business insurance plan that covers what you want within your budget. Reach out to us today to start the conversation about your business's needs!
Your Quick Guide To Industry-Specific Business Insurance Coverage
There's many types of business insurance coverage available to you as a small business owner, and your specific needs will vary based on your particular industry. Browse the brief list below to learn which specific types of business insurance policies can help you!
Business Insurance For Retail Stores
Retail business owners should consider Business Income From Dependent Properties and Franchise Upgrade coverage. These policies can help you recover lost income in the event that a third-party business that you rely on in your supply chain shuts down, or cover the costs of upgrading your store to meet franchise requirements after a covered accident. 
---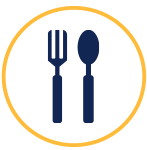 Business Insurance For Restaurants
Restaurant owners would be wise to purchase Liquor Liability and Temperature Change insurance policies. Liquor Liability insurance protects you from liability in the event of alcohol-associated accidents and damage, while Temperature Change helps you replace your inventory if your restaurant's refrigeration equipment breaks down.
---
Business Insurance For Real Estate Professionals
Real estate businesses should invest in Commercial Auto insurance due to the nature of the job, and additionally, Employment Practices Liability and Employee Benefits Liability insurance can cover costs related to any claims of wrongdoing by employees.
---
Business Insurance For Landscapers & Tree Care Specialists
Outdoor businesses would be wise to invest in Business Income Extension for Off-Premises Operations insurance. This unique type of coverage helps replace lost income if your business can't function due to equipment damaged at the job site. Herbicide & Pesticide insurance is also useful protection for dealing with pollution costs related to the chemicals your business uses.
---
Business Insurance For eCommerce & Creative Professionals
Creative professionals and those who do business primarily online should strongly consider shipping insurance, product insurance, and special policies to protect their intellectual property online. These types of policies are essential for reducing your liabilities related to the shipment of your goods to customers, as well as for recovering lost income in the event that someone steals your work or copies it without your permission.
---
Secure Your Passion With Customized Protection
Business insurance is essential to reducing your liabilities and ensuring your enterprise a long and prosperous future. Get in touch with the Mountain Plains Agency today to craft a customized business insurance plan! We've been helping small businesses thrive since 2005, and we'd love to support your pursuit of your vision.  Connect with us today to get started!